Over the last year I've seen this little car around town, and it always made me smile. What was even more interesting is that it could actually keep up with the flow of traffic. I knew I had to get a closer look…
Guys and gals meet Jory Squibb a 66 year young man from Camden, Maine and his micro car "MoonBeam".
MoonBeam took Jory about a year (1000 hours) to engineer and build working about 20 hours a week. It's out of pocket price including the donor 1985 Honda Elite 150 and another 84 Honda 125 was $2500.
Its not a beauty queen, but the Moonbeam suffers from an undeniable cuteness that can't help but make you smile. Fit and finish are a bit crude but what sets the Moonbeam apart for me was its functionality and practicality.
MoonBeam is Jory's daily driver, rain, snow, sleet, or hail. He has put over 6000 miles on it since completion. He does park it when the roads are snow covered (its one wheel drive, what do you want!) But it does get used all winter when the roads are clear.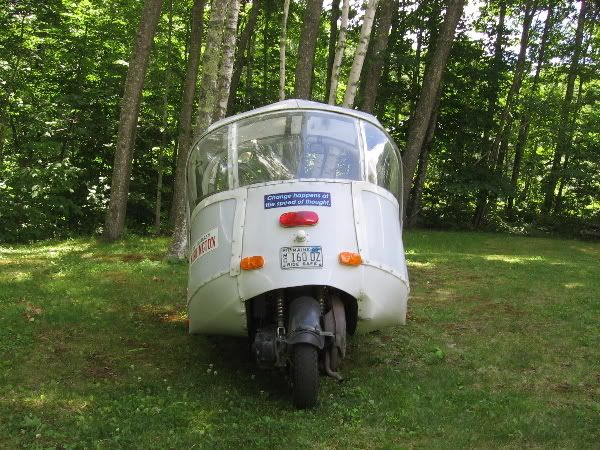 The car has climbed Mt. Washington in New Hampshire (New England's tallest peak), and has made several longer trips around Maine. It has been trailered to CA for an alternative vehicle show and Jory plans to drive it to Boston this fall for another such event.
Mr. Squibb is an alternative vehicle fan and tinkerer from way back. He climbed Mt. Washington back in the 70's in a "Volts-Wagen" a VW Beetle electric conversion he built.
Jory is realistic about the demands of society though, and realizes that gasoline is still our best energy source for some time yet. He would just like to see us adopt an attitude change and use vehicles like MoonBeam for commuting, shopping, and errand running. If you think about it, most of the things we use our full size cars for fall well into Moonbeam's realm of capability.
After inviting me to his home for an interview and demonstration, he graciously handed MoonBeam over to me saying "take it for a ride and then come back with your questions".
If you can ride a scooter you can drive Moonbeam. The controls are taken right off an old Honda Elite. The only change is the kill switch now operates the windshield wiper.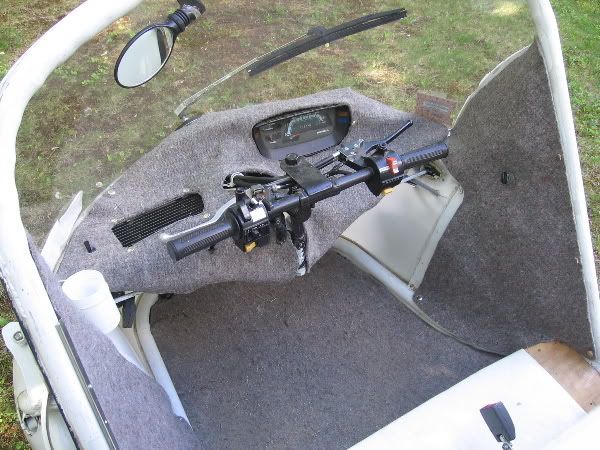 Getting in and out of MoonBeam is a breeze. The top roll bar is offset to allow easier entry and exit. If you're riding by yourself, or with a child as a passenger, there is plenty of room in the car. However, Jory recommends that if two adults ride in the car they should be on "intimate" terms with one another.
The seat is crude but functional, and there is a reasonable amount of foot room. In hindsight, Jory wishes he built it about 4″ longer for taller people. At 5′ 10″ I was fine. Below is the foot well with a view of the 1/8″ sidewall steel tubing (cage) and the easy access headlights.
The ingenious sliding canopy is lockable in three positions. Whether you want the canopy open like a convertible, closed like a coupe, or secured halfway like a sunroof, it adjusts very easily even when you are seated. The view out the front is great, but the rear view is limited to mirrors.
To start the Moonbeam all you need to do is turn the key and hit the starter. Once it started I immediately remembered it's a Honda. Talk about a smooth engine. I buckled my seat belt (3 point like a car) got my bearings, and twisted the throttle.
Big grin time! Moonbeam accelerates surprisingly well for a 400 pound vehicle. The ride is good and handling was amazing. Jory did a great job of getting the steering geometry right. The brakes… well … they are adequate.
He used the stock Elite Brakes so there are drums on all three wheels. Jory would love to add discs, and plans to incorporate them in his next car. Hills were no more of a problem than any other 150 scooter. I got it up to 45mph around town and Jory said it tops out a 53 according to his GPS. It cruises wonderfully at 40-45 mph. The canopy does rattle a bit but its great for a hand built prototype. I was impressed (and I'm still grinning like an idiot 3 hours later).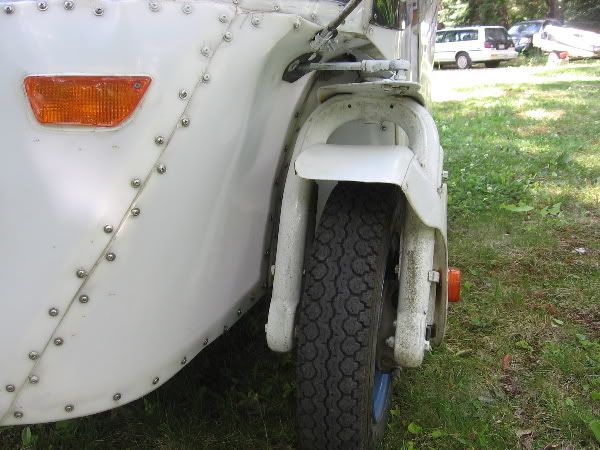 There's a lot of storage in the MoonBeam depending on whether you have one or two people in it. There is room on the rear deck and the floor.
Beneath the rear deck is the fuel tank access and engine cover. You do have to remove panels to get to the engine but it is very easy. When you build something yourself you build it to be able to work on!
As I mentioned earlier, this is a four season car. Since the Honda Elite 150 scooter is water cooled, the heating system was fairly easy to rig. Moonbeam has two radiators. The one in the back does the primary duty and the one up front, while it does have coolant flowing to it all the time, has a switch operated fan to provide heat if needed. When doing thing's like climbing Mt. Washington you can leave the top open and run both radiators to keep the engine cool. Here is the front heater radiator and the hoses from the rear that feeds it coolant.
There is no question that the car is small. It does have a well thought out safety cage, but Jory admits if you're hit by a large
vehicle at 60 mph, there is not much you can do. That said, as a fellow motorist you can't help but notice the MoonBeam and vehicles like it. Your eye is just drawn to it like a moth to flame, just make sure you give them plenty of room!
Here's the MoonBeams Honda Elite 150 drive train from the back. At 6000 miles the tire is pretty worn!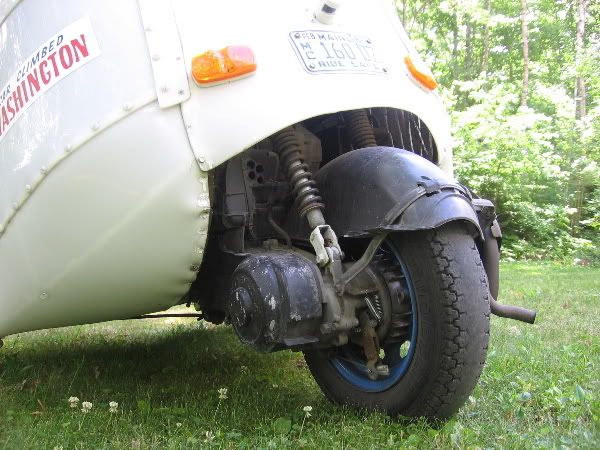 Legality Issues of a Homebuilt Car:
In Maine it's pretty easy to accomplish non-mainstream ideas. That said, Jory went through some hoops to get a legal inspection sticker on this vehicle. There is a sub class of vehicles in Maine known as "Cycle Cars" and MoonBeam had to have a windshield wiper, seat belts, and more other various safety devices installed. A very understanding State Inspection Station Owner helped Jory immensely with this process. It can be done if you are so inclined.
Want to know more? Click Here
Too cool.
Aaron